LolitaWardrobe FAQs
1. Payment FAQs

Q: Which payment methods do you accept?

A: We accept E-check, credit card, paypal, wire transfer and western union. Please learn more about our payment methods here >>> LolitaWardrobe Payment Methods

Q: Could I check items prices in my currency, instead of USD?
A: Of course you can, there's currency selection at the top left corner to change all items prices to your preferred currencies.


Q: Could I pay in other currencies rather than USD?
A: Yes, you can. However, you need to contact us for the invoice to pay by it.

Q: I see prices in USD currency, but shoes sizes are Europe size, why?
A: We use Europe shoes size because it's quite unique; if we use USA size, it could easily be misunderstood as UK, Mexico size.

Q: Are prices listed at store tax included?
A: No, they're only prices of the products, not include tax and shipping fee. We always try our best to help our customers avoid unreasonable tax, for details, please check the below question.

Q: How can I avoid Tax for my Lolita pack(s)?
A: Generally when a pack goes through custom house in your country, there's a small chance that it will get picked for check of goods value, and apply corresponding tax fees. Then what should we do so that we avoid the possible tax?

We always mark the goods value lower to help lower or avoid the tax. Just in case your pack got picked and you were asked to give a goods value proof. If you care about this or if you were charged tax fee before, please contact us, we will suggest our way to help you avoid or lower the possible tax.

Or, if you know exactly what to do to avoid the tax for your pack, please contact us, we'd like to follow.

Q: Is it ok if I enter a placeholder email, not real one?
A: No, your emails' only kept by us, in case we need to confirm with you some order details, or a notice about shipment, etc. We won't use your email for ads or spam activities.

Q: Why do I need to give a phone number?
A: We would really appreciate if you could leave a valid phone number when order. It's required by shipper - they may need to contact you to schedule a delivery time. We won't use it for anything else.

Q: Is my payment safe?
A: Yes, your payments are received mostly through paypal, and if anything, you could always file a dispute, but we don't really think that's needed as we do business with honest. Our products photos are on real goods, and we try to make the description as accurate as possible. Just in case there's anything, we are always here to help.

Q: How do I pay by credit card? I don't have a paypal account.
A: When checkout at our store, please select "PAYPAL" as pay method. After get to secure payment page, there's a button at bottom of the page saying: "Pay with credit card, echeck, Bill me Later" Click that and you will get the credit card submission form.


Q: What is wire transfer?
A: Wire transfer is a kind of off-store payment, made through your banks. After order at our store, you need to do the transfer either through your bank online portal, or a bank counter local.


Q: What is western union?
A: Western union is a kind of off-store payment. After order at our store, you need to do the transfer either through western union official site, or a western union office at your local. After transfer of payment, please get us the information needed.

Q: I select wrong payment method. What could I do?
A: If you selected wire transfer or western union, then found credit card, echeck or paypal is more convenient, it's no problem to change that. Just contact us and we will send you a new invoice to pay.

Q: Will LolitaWardrobe.com charge me without my permission?
A: No, our payments online are received through paypal, we don't keep your financial information, nor keep the right to charge you more. Just in case if we need some extra fee(mainly for extra material fee of custom tailor at size bigger than XXL), we will email you about it, then you need to pay it.

2. Shipping & Exchange

Q: What shippping methods do you accept?
A: We accept DHL, EMS and Post Office Airmail currently. If you want us to ship out your pack by UPS, Fedex or TNT, please contact us, we'd like to discuss it with you and will let you know the corresponding shipping fee.

Q: When will my order arrive?

A: Your order's arrival time is process time plus shipping time. We tried to list the arrival time at each product's description area. If you have a deadline, please make sure to leave it in comment area when checkout.

Q: What's the benefit of register?

A: Register while place order, could allow you to check order status and details, keep shipment address, and become higher level members (Learn more about our Member Benefits)

Q: Could I still keep track of my order if I don't register?
A: Yes, after your order placed, we will email you an order summary, and after shipment there will be email of track code. You could always check with us for order status, or any questions, through email, Facebook or Twitter.

Q: What if I get wrong items?
A: Although this really seldom seldom happens, if we do make a mistake, please email us within 3 days after you get the pack, and we will discuss about the solutions. If we make a mistake, we will be responsible.
*Please notice because we view images at different computers, there may be slight color deviation, that's not quality issue. We do try to make colors of pictures as accurate as possible.

Q: What should I do if I want to exchange/cancel my ordered items?

A: Within 24 hrs after your order, it's alright to cancel or exchange. After 24 hrs, because we already go ahead processing for you a while, there may be some premium, especially for the custom tailor items.
If after order already shipped, we can't do exchange or cancel anymore.

Q: How do I track my order?
A: Please learn more about it here >>> LolitaWardrobe Order Tracking

Q: Is sign required when shippers deliver my pack?

A: Yes, all shippers we use now request a sign. If it's not convenient, there are several ways to get around it:
*If you have a mailbox, you could leave a pre-signed note there.
*You could call shippers with your pack track id, and ask them to deliver at your convenient time.
*You could call shippers with your pack track id, and ask them put it at a neighbor's.
*You could call shippers and ask for pickup by yourself.
(These requests could only be initiated at your side, which is a rule by shippers.)

Q: Could I ask shippers help me keep my pack for a while, if I am not home?
A: Yes, but there's often a time limit. Fedex could only keep it 7 days, and more or less for other shippers. After that, they will either destroy the pack, or return it. If this happens, please notice we can't be responsible.


Q: Could I request shipping address change for my order?

A: Yes, before shipment it's free; after shipment, the shippers will charge about 8-14USD extra fee on our bill. Since our profit is really slim, please be careful to get us a valid shipping address, and if there's really changes required, please send us the fee.
If the address change is because shipper's mistakes, there's no extra fee.

Q: Do you ship worldwide?

A: Yes - we ship worldwide, and because recently we are updating our shipping fee for countries, if your country
doesn't have a shipping quote, please email us to support@lolitawardrobe.com for an invoice directly.

Q: Could I use PO/APO address for shipping?

A: Yes, but we could only ship with EMS for PO address, which is delivered through post office. EMS often takes about
7-12 days for shipping time.

Q: Where could I find out the shipping fee?
A: At each product's detailed page, there's a shipping fee estimator. Click it and then select your country and your ideal shipping method, then you will get a quote. There's no obligation to complete the order by doing that, so feel free to play with it.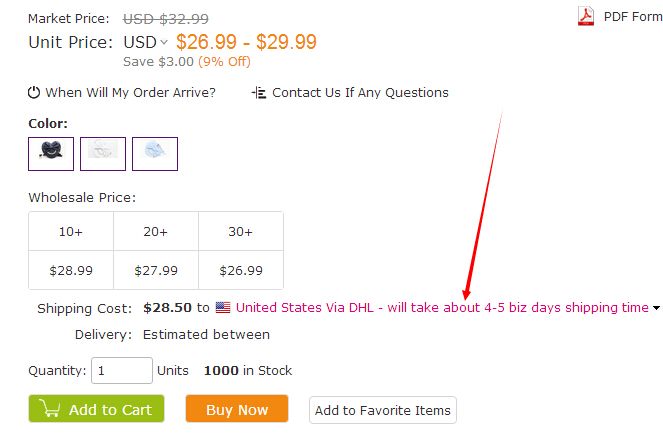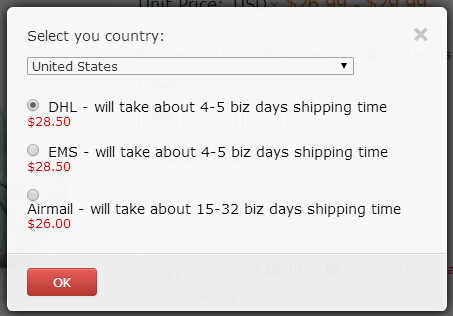 Q: What's the difference between airmail and other shipping methods?

A: Airmail shipping is through post office and takes 15-32 weeks; while through DHL/Fedex/EMS, which takes about 4-5 biz days for shipment.

Q: Why is airmail higher priced than premium sometimes?
A: Because airmail is mainly for pack under 1kg, and obviously cheaper especially for items under 0.5kg. We are also putting in efforts to lower the shipment fee as much as we can.

Q: Why there's no quotes for shipping fee to my country?

A: We ship to worldwide. There are some countries which we are still working on shipping fee, and not updated at store yet. But we could ship to your country. Please contact us your order details, we will send you invoice.

3. Pre-order Items FAQs

Q: What is pre order?
A: Pre order means the item(s) you got are not in stock yet, still in tailor process. You would need to wait for certain time to get your item. Pre order price is often lower than formal price; more importantly some items are no longer available after pre order.

Q: Do I pay full price when I buy an pre order item?
A: Generally, yes, if you add the item you want to shopping cart, checkout, you have paid full price for it. If the price listed is only down payment(which very seldomly happens), we will make it clear at the product page.

Q: What is down payment at Lolitawardrobe.com

A: Because most of Lolita items from Taobao indie brands are limited version, so we offer down payment service for those sweeties who are NOT ready to pay the full price.

Q: Is down payment applicable to all of the items available at Lolitawardrobe.com?
A: Yes, down payment is applicable to all of the items available at Lolitawardrobe.com

Q: How do I do down payment at Lolitawardrobe.com?
A: Please enter the Down Payment page firstly and then follow the instructions to complete the down payment.

Q: How much should your down payment be?

A: The down payment is 20-40USD based on different items - you could reserve for 1 dress/item. The match accessories for the dress/blouse could be included as 1 item, such as headbow, wristcuffs, socks, petticoat for a dress.

Q: Is there an extra fee for down payment?
A: No, you finally pay the same as direct order. For example, if the pre-order item's full price is 100USD, the down payment is 20USD, then you just need to pay 80USD rest fee + shipping fee. If you pay full price, it is 100USD + shipping fee. So there's no extra shipping fee for down payment.

Q: When should I pay the rest fee?
A: You can pay the rest fee when you think you are ready. However, you have to pay the rest fee before the item is ready for shipping, we will notify you by email when your item is close to finish and hope you can pay the rest at that time.
NOTE: shipping fee of the item is included for the rest fee.

Q: Could I cancel my down payment?
A: Sorry down payment can't be cancelled, but you could transfer it to a friend.